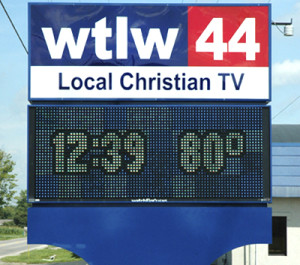 Well-built and long-lasting, our top-of-the-line EMCs invite and inform your customer like no other signage can.
SignsOhio models -- big or small -- allow an unlimited number of message changes and formats, all from the convenience of your computer or other remote location.
EMCs can be incorporated into your existing signage, or designed to function in a whole new system. Either way, you'll see your business image take a quantum leap in customer attraction with our design and installation.
More importantly, SignsOhio stands behind your unit with solid installation, service, and on-going support. No selling you an overpriced inferior model, hiring an installer, then skipping town: we're here for the long haul!
Call 419-228-SIGN (7446) or 1-800-542-6636 and ask about the wide range of models, sizes, and EMC designs to make the best choice for your business.
Product Fact Sheets
10mm Color LED Sign
12mm Color LED Sign
16mm Color LED Sign
19mm Color LED Sign
25mm Color LED Sign
Industry Specific Information Sheets
Automotive
Financial
Restaurants