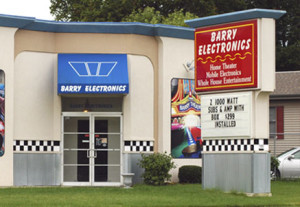 One pole, two poles. One logo, many logos. Ten feet tall, 15 feet tall. Options abound with a street-side Pylon Sign. Share the cost with another business and install tenant panels, illuminate with color, or cap it off with an electronic message center.
SignsOhio will help you use color, shape, and verbiage to catch the traffic eye and create a visible invitation for your customer to stop in.
Call 419-228-SIGN (7446) or 1-800-542-6636 to see if a SignsOhio pylon sign is the best choice for your business.