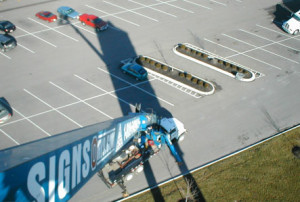 It takes equipment, manpower, skills and experience to be in the high rise business.  SignsOhio has it all.
Electrical and welding specialists go as high as 142 feet for routine service and maintenance.  Plus, our crews dispatch at a moment's notice when weather or vehicular mishaps cause your sign to need immediate, emergency attention.
Call 419-228-SIGN (7446)or 1-800-542-6636 for dependable and professional high rise sign service.